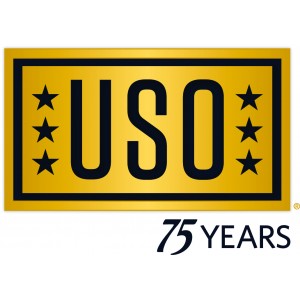 San Diego, CA (June 15, 2016) – The USO San Diego's 75th Anniversary Stars and Stripes Gala: It Takes a City to Support our Military, raised $750,000 to support San Diego service members. The event, which took place at the Hotel del Coronado on Saturday, June 4, 2016, named Papa Doug Manchester as the first recipient of the USO San Diego's Patriots Award.
Papa Doug and Geniya Manchester served as Presenting Title Sponsors for the event; Hélène and George Gould were Premier Title Sponsors; and Becky Moores served as Freedom Sponsor. Freedom Star Sponsors were Betty Beyster, Capital Bank, Farrell Family Foundation, Northrop Grumman, The Rockefeller Group, Darlene Shiley, Sudberry Properties and the Dr. Seuss Foundation. Honorary chairs for the event were Olivia and Peter Farrell and Joye Blount and Jessie J. Knight, Jr., with co-chairs Hélène and George Gould, First Lady Katherine Faulconer Jeanne Jones and Don Breitenberg, Reena and Sam Horowitz, Stephanie Brown and Jim Bartell. Event Honoree was San Diego Mayor Kevin Faulconer.
"I'm proud of the work USO San Diego does to provide services to more than 200,000 military men and women 365 days a year," said Mayor Faulconer. "On behalf of all San Diegans, I would like to express a heartfelt appreciation to our military and their families in San Diego, and for all of those who serve and protect our country."
The Gala celebrated the strong, enduring relationship between San Diego and our Armed Forces, and featured Medal of Honor recipients Colonel Robert Modrzejewski, United States Marine Corps, retired, and Colonel Jay. R. Vargas, United States Marine Corps, retired, who have inspired us with their bravery.
The Gala also included a return performance by the Wounded Warriors group "MusiCorps," a finalist for CNN's 2014 Heroes award, and a keynote speech by former Navy SEAL and motivational speaker, Clint Bruce.
"We're deeply honored that Papa Doug and Geniya stepped forward as Premier Title Sponsors for our 75th Anniversary Stars and Stripes Gala," said Lynn Congemi, USO San Diego Board Chair. "Their gift continues Papa Doug's lifelong dedication to our armed forces and is an inspiring start to our goal of raising $750,000 for our military and their families."
Founded in 1941, the USO strengthens America's military service members by keeping them connected to family, home and country, throughout their service to the nation. The organization operates USO centers on military installations across the United States and throughout the world, including in combat zones, and even unstaffed USO service sites in places too dangerous for anyone but combat troops to occupy. In San Diego, the USO Neil Ash Airport Center and Downtown center offer services for traveling members and their families. The organization's many specialized programs provide a continuum of support to men and women throughout their journey, from the first time they put on their uniform, until they leave military service.
"USO San Diego connects active-duty, reserve, guard and military families to the community; from transitioning, to deployed troops, to the wounded, injured and fallen," said Arne Nelson, CEO of USO San Diego. "We can only accomplish this with a dedicated and compassionate cadre of staff, volunteers and magnanimous supporters like Papa Doug and Geniya, all of whom work together to honor, respect and elevate the spirit of all military personnel and their families. They deserve our best efforts, every day."
Papa Doug Manchester added, "we are blessed to live in the greatest country in the world, and it is our duty and responsibility to honor and serve those men and women who sacrifice their lives on our behalf. I am honored and humbled to support USO San Diego's 2016 Stars and Stripes Gala and the mission of the program to provide a home-away-from home for our service members."
ABOUT USO SAN DIEGO
Founded in 1941, The USO strengthens America's military service members by keeping them connected to family, home and country, throughout their service to the nation. USO San Diego is a premier USO Chartered Center providing morale and support services, as well as a home away from home for all members of the U.S. Armed Forces and their families. For more information, please visit www.usosandiego.org.